Restoring Financial Safety Project Wins Homelessness Award
WEstjustice's Restoring Financial Safety Project has been awarded the Excellence in Ending Homelessness – Children and Families Award at the Victorian Homelessness Conference 2021. The Award recognises programs that have made an outstanding contribution to preventing or ending homelessness in Victoria for children and families.
The Project is a two-year integrated services partnership with McAuley Community Services for Women that supported 137 women to regain financial security after family violence, in turn helping women and children gain long-term or secure housing. The Project also achieved over $900,000 in debt waivers and compensation for women who had been economically abused.
The Project is one of few examples in Australia that brings together an integrated response for victim survivors of family violence, and is a strong model that could be rolled out across the state. WEstjustice continues to work with government and industry for ongoing funding for the Project and to improve the life outcomes of women experiencing economic abuse.
Westjustice's Restoring Financial Safety: Transforming Financial Security Project Evaluation Report can be found here.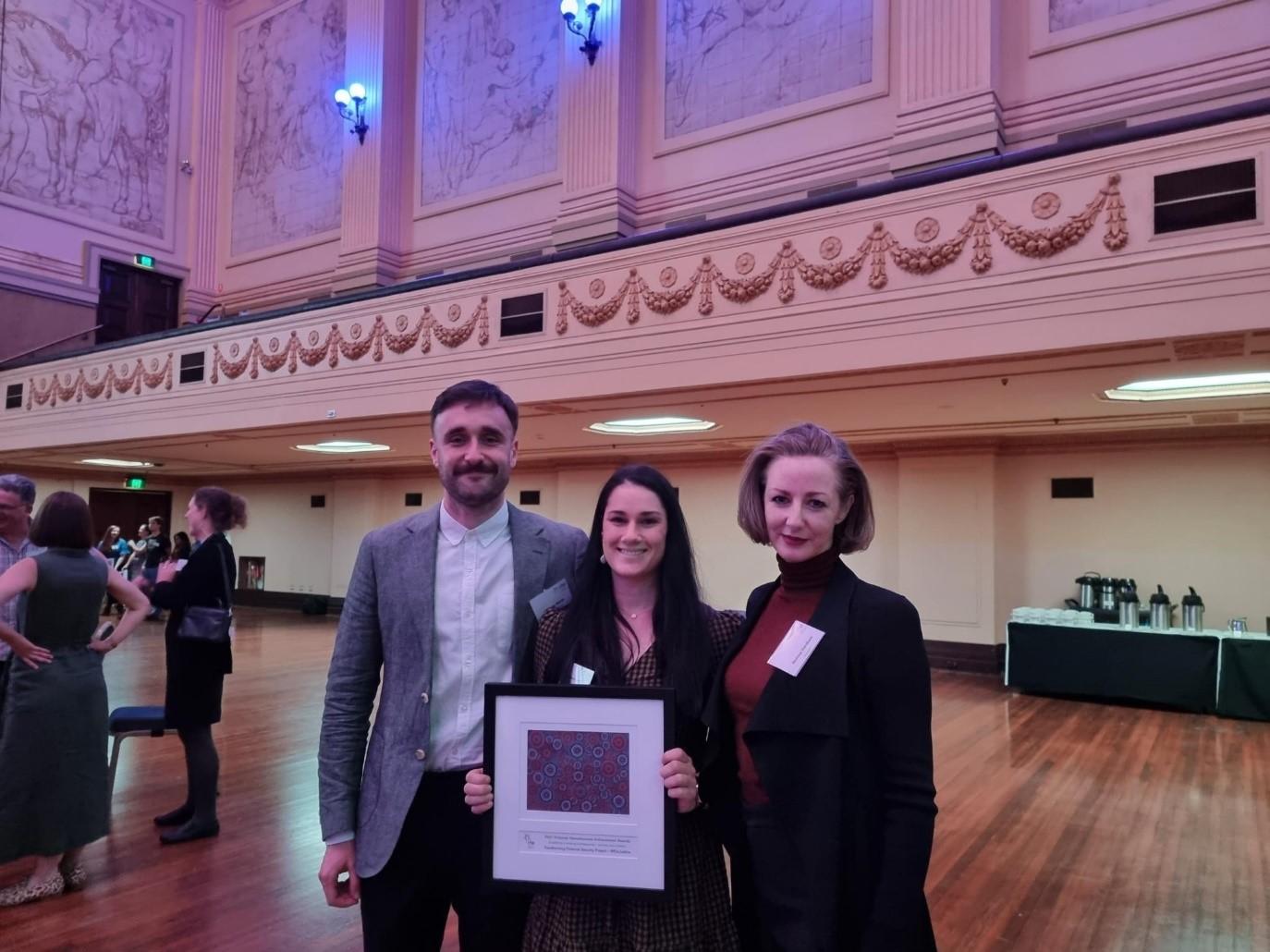 The WEstjustice Team at the Victorian Homelessness Achievement Awards: (left to right) Matthew Martin, Legal Director, Economic Justice; Dacia Abela, Program Manager, Financial Services; Melissa Hardham, CEO
WE

are located
Footscray

Werribee

Sunshine
Footscray
Workspace365, Level 2, 90 Maribyrnong St, Footscray VIC 3011 (temporary relocation)
Tel: + 61 3 9749 7720
Fax: + 61 3 9749 8276
Email: admin@westjustice.org.au
Office hours:
Monday to Friday, 9.00am-1.00pm and 2:00pm-5:00pm. (Office currently closed to public due to COVID-19 situation)
To get legal help (appointment time needed) please use our Online Enquiry Bot by clicking HERE or call us
Werribee
Level 1 / 8 Watton Street, Werribee VIC 3030 | Mail: PO Box 2199, Werribee VIC 3030
Tel: + 61 3 9749 7720
Fax: + 61 3 9749 8276
Email: admin@westjustice.org.au
Office hours:
Monday to Friday, 9.00am-5:00pm. (Office currently closed to public due to COVID-19 situation)
To get legal help (appointment time needed) please use our Online Enquiry Bot by clicking HERE or call us
Sunshine
Visy Cares Hub, 80B Harvester Road, Sunshine VIC 3020 | Mail: PO Box 627, Sunshine VIC 3020
Tel: + 61 3 9749 7720
Fax: + 61 3 9749 8276
Email: admin@westjustice.org.au
Office hours:
Monday, Wednesday & Friday, 9.30am-1.00pm and 2.00pm-4.30pm. (Office currently closed to public due to COVID-19 situation)
To get legal help (appointment time needed) please use our Online Enquiry Bot by clicking HERE or call us